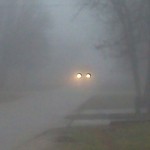 A dense fog advisory for an area of Wisconsin that includes Kenosha County has been issued by the National Weather Service.
The advisory will be in effect until 10 a.m.
Visibility could be less than a quarter mile at times.
Lake County, Illinois is not under a dense fog advisory if you are headed in that direction this morning. BAck in Wisconsin, Racine County is but Milwaukee is not.