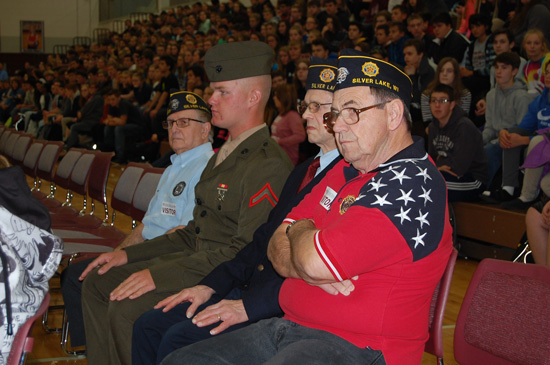 Central High School celebrated Veterans Day at an assembly at school Friday.
Lt. Commander John Rudd, US Navy, was the guest speaker. He has served on six different Navy ships that have deployed to the Pacific and Atlantic Oceans, the Mediterranean Sea and the Persian Gulf in support of Operation Enduring Freedom. As a Navy chaplain, Rudd deployed with a United States Marine Corps Infantry Battalion to Al Asad, Western Iraq in support of Operation Iraqi Freedom and to the Western Sahara Region of Morocco in support of Operation Africa Lion.
The assembly also included musical performances by school choir and band groups.
Rudd addressed what is a veteran, using his experiences as a chaplain at home and abroad as examples.
"I hope we can remember a key fact from today," Rudd said. "Remember, veterans are all ages. Veterans can be just a couple of years older than you (and) they can be all the way up to World War II veterans. Also remember, a veteran's spirit is always the same. A veteran is someone who wanted to serve their country."
Here is video of the musical performances, first from the choir and then band:
Here are some more photos: