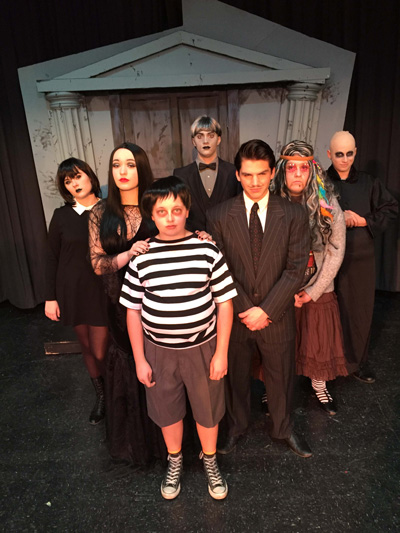 Westosha Central High School will be presenting the musical "The Addams Family" Nov. 17 -19.
The classic characters created by Charles Addams – including Gomez, Morticia, Wednesday, and Uncle Fester – will come to life during this family-friendly production.
Tickets are $10 at the door (free for children five and under). Showtimes are: Friday, Nov. 17 at 7 p.m.; Saturday, Nov. 18 at 7 p.m.; and Sunday, Nov. 19 at 2 p.m.
The musical tells the tale of Wednesday Addams, the ultimate princess of darkness, who has grown up and fallen in love with a sweet, smart young man from a respectable family. When Wednesday confides in her father she begs him not to tell her mother. Now, Gomez Addams must do something he's never done before – keep a secret from his beloved wife, Morticia. Everything will change for the whole family on the fateful night they host a dinner for Wednesday's boyfriend and his buttoned-up parents.
"The cast and crew are really getting into telling the story of this dark, quirky family that love each other but have some very strange ways of showing it," said director Michael Klimzak. "Everything about this production just seems to be clicking into place. We've worked hard to build up the drama program at Central (high school) and this production really shows that off."
The musical is directed by Klimzak with vocal direction by Rob Clark, band direction by Adam Scheele, and choreography by Kyle Kimberly Baker.
The Addams Family The Musical was originally produced in 2010 starring Bebe Neuwirth and Nathan Lane. Book by Marshall Brickman and Rick Elice; Music and Lyrics by Andrew Lippa; Based on characters created by Charles Addams.
Also, Saturday, November 18 will be Falcon Musical Alumni Night. Cast, crew, and band members from past productions are invited to meet old friends as well as talk with the cast and directors.