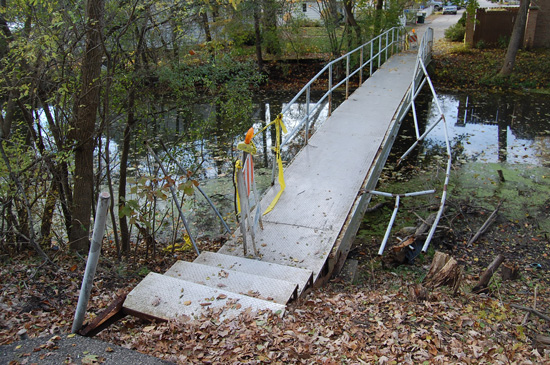 The Twin Lakes Village Board approved replacing the Bayview Pedestrian Bridge, which was damaged in a car crash in September.
At a special board meeting Monday, the board approved a bid to replace the structure from Knoll Steel of Spring Grove, Illinois for a cost of $15,966. The vote to approve was unanimous, with Trustee Jeremy Knoll absent.
The board rejected a bid to repair the bridge from B&B Overhead Doors of Twin Lakes for $13,950, chiefly because the board felt replacing the 70-year-old bridge was a better option than just repairing it.
The bridge was damaged by a vehicle that struck it before ending up in the Lake Mary Channel on Sept. 2. The driver was charged with operating while intoxicated.
The village received a $5,000 insurance settlement related to the damage to the bridge, said village administrator Jennifer Frederick.
The pedestrian only bridge spans the channel and connects Rosebud Avenue with Bayview Avenue. President Howard Skinner said it allows Indian Point residents to walk into downtown Twin Lakes by a much more direct route.
The rejected proposal included a cover for the bridge. The board asked Frederick to see what setting up the bridge for an easy retrofitting of a cover would add to the cost of the project.
Skinner said he was under the impression the Knoll proposal was with accessible entry replacing the current stairs. Frederick said she was not sure if that was included in the bid or would result in an additional cost. The board instructed her to check into that and bring back any additional cost.
Related posts