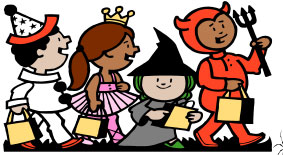 Local weather should be cool and dry today when most communities hold their trick or treat hours, says the latest, local National Weather Service forecast.
Bristol, Twin Lakes, Randall and Paddock Lake have designated trick or treat hours Tuesday from 4 to 7 p.m. Salem Lakes' designated hours are 4 to 8 p.m. Paris and Brighton do not designate hours. Wheatland had designated hours last Sunday.
At the start of trick or treat hours (4 p.m.), the temperature should be right at the high for the day of 40. By the end of trick or treat hours, the temperature may have dropped to the low 30s.
There's no rain in the forecast for Tuesday or Tuesday night.