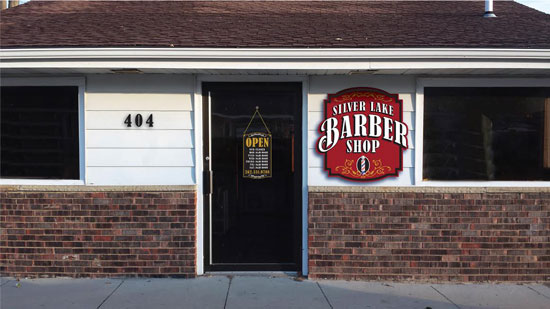 Note: Silver Lake Barber Shop is a westofthei.com sponsor. — DH
Dick Flatley of Silver Lake Barber Shop can bring his decades of experience to give you the hair style you have always wanted, and help keep you looking good.
The shop is located at 404 E Lake Street in downtown Silver Lake. Hours are:
Tuesday: 9 a.m.-5 p.m.
Thursday: 9 a.m.-5 p.m.
Saturday: 7:30  a.m.-noon.
Dick offers the Roffler razor hair cutting system. "We're able to give consistent results every time," Flatley said. "We're able to make their hair more manageable."
Each new customer starts with a consultation, where the customer can talk about what they would like and Flatley suggests how to make that happen.
For each male customer, Dick shaves around the ear.
Additional services offered are:
Flat tops.
Beard trims.
Facial shaves.
Hair coloring, to freshen up and sharpen your look.
Walk-ins are welcome, but appointments are always served first. Make an appointment at 262-237-1447.
Dick is also looking to hire an additional stylist for the Silver Lake location. Contact him if you are interested and qualified at 262-237-1447.