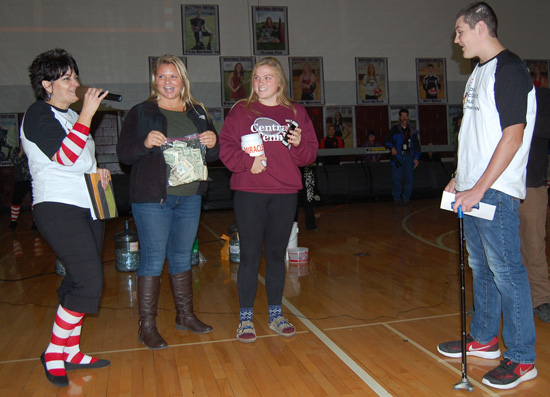 Central High School students Monday celebrated one of their own's efforts to support Ronald McDonald House.
Seth Bayles, a CHS sophomore, and his family have used the Ronald McDonald House in Rochester, Minnesota, where Seth undergoes treatment at Mayo Clinic for a rare auto immune disease. Ronald McDonald House allows families a place to stay while their children visit medical facilities for specialized treatment.
Bayles has been raising money to support an expansion of the Rochester Ronald McDonald House by collecting millions of aluminum can tabs over the years and is in midst of another effort. This week, students at the school have been buying Ronald McDonald red and white striped socks and contributing to the effort in other ways.
Recently Principal Lisa Albrecht decided students would benefit from supporting Seth's efforts and the drive and assembly was born.
"Life isn't always about academics," Albrecht told students at an assembly in the school gym Monday afternoon. "Something we have to look at is how we develop your character. Everyone one of you has the ability to make change."
The school's Key Club was a force behind organizing the events at the school to support Seth's fundraising.
Several area businesses presented Seth with donations towards his effort at the assembly, as did the Kenosha County Sheriff's Department.
There even was active fundraising right at the event went students participated in a Miracle Minute and raised over $600.
Those at the assembly also saw a short film about Seth and the Rochester Ronald McDonald House. Seth's mother Julie Bayles also addressed the students and thanked other sponsors of Seth's efforts.
"I just want to challenge you today to never give up and don't let anyone look down on you because you're young because you can make a difference," said Julie Bayles.
Here is video of all of Julie Bayles comments:

Football Coach Tyson Mengel talked about the team's effort's to support Seth, who served as a manager this year.
Fundraising at the school including the sale of the socks will continue through Friday.
Here are some more photos from the assembly: