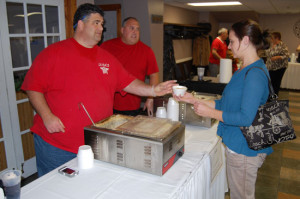 The 14th annual Bowls 'n' Bakers soup tasting fundraiser for Kenosha Area Family and Aging Services Inc. will be held Wednesday Nov. 8 from 11 a.m. to 1:30 p.m. at the Brat Stop's Parkway Chateau.
Those attending will be able to taste a variety of soups from local restaurants and then vote for their favorite. There also will be a bake sale and raffles, including a chance to win tickets to the Nov. 12 Packers/Bears game.
Ticket price is $25 for the general public and $20 for people 60 and over.
Buy tickets online here or purchase in the office at 7730 Sheridan Road, Kenosha.