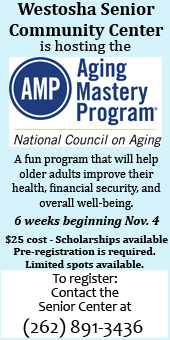 Note: Westosha Senior Community Center is a westofthei.com sponsor. This is a paid announcement. — DH
The Aging Mastery Program®, sponsored by the National Council on Aging, is coming to the Westosha Senior Community Center.
Geared towards seniors 50 years and older, this is a fun program that will help older adults improve their health, financial security, and overall well-being.
6-Week Class, Saturdays.
Begins Nov. 4.
Hear from speakers, engage in class activities and meet new friends.
Over $60 in value for just $25 (scholarships available, ask for details).
Pre-registration is required. Limited spots available.
Contact the Senior Center at (262) 891-3436 to register for The Aging Mastery Program®.