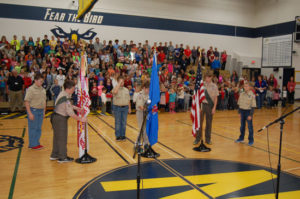 Wheatland Center School will be ​honoring​ ​veterans'​ ​service​ ​to​ ​our​ ​country on Friday, Nov. 10.
​Coffee​ and sweets​ ​will​ ​be​ ​served​ ​in​ ​the​ ​Middle​ ​School​ ​Cafeteria at the school from 8:30-9:15​ a.m. That will be followed by an assembly from 9:15 to 10 a.m.
​All​ ​veterans,​ ​any​ ​military​ ​person​ ​currently​ ​serving​ ​and​ ​spouses are invited to attend.
As part of the assembly, the school would again like to share pictures of veterans in their uniforms. The photo will be scanned and returned to you. Please send the photo in an email to thomas.hartley@wcspk8.org or in an envelope and include the following information with the photo: name, relation to Wheatland student, branch of service, years and dates of service. Please do not send a new picture if a photo was sent in previous years. The school has those photos on file. Please have the photo sent in by Wednesday,​ ​Nov.​ ​8​ in order to have it included in the slide show.
Please​ ​R.S.V.P.​ ​by​ ​Monday,​ ​Nov. ​6,​ ​if​ ​you​ ​are​ ​able​ ​to​ ​attend​ ​the​ ​assembly​ ​or the​ ​assembly​ ​and​ ​light​ ​breakfast. An RSVP form is available here.
Wheatland Center School is located at 6606 368th Ave., Wheatland.