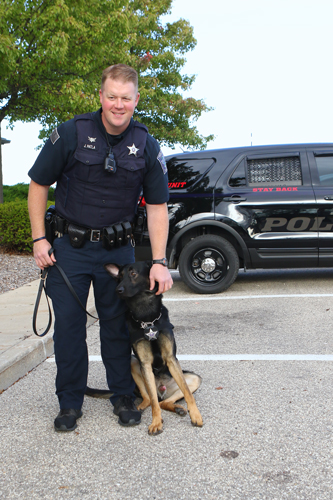 Twin Lakes brand new officer hit the road Wednesday afternoon. Rex, a 17 month old German Shepherd went on patrol with Officer Joe Patla.
He arrived from Germany in August. He and the officer have been in training together for the past four weeks. Rex has been in training since he was a puppy and his commands are in German. Patla has had to learn to properly pronounce his commands.  Their training was done at the Steinig Tal Kennel in Cambellsport, WI. Many police dogs in the state are trained, there.
The cost of purchasing Rex and training Rex and Patla was $14,000. All of the money has come from the community, through fundraisers or donations. The vehicle, fully outfitted for K9 use, was purchased used, from Spring Grove, by realtor Mary Brennan for $17,000.  Westosha Veterinary Hospital has volunteered medical care, provided by Dr. Mary Sue Lux. Donations are also paying for food for Rex. Ruth Epping of Richter's Marketplace reached out to the the Police Department in June, once she heard of the K9 program fundraiser.  She set up a brat fry, which was held in August.  Richter's elected to make August their K9 month and continue to sell "Paws for a cause" throughout the month.  Between the brat fry and "Paws for a cause", Richter's presented Twin Lakes Police with a check for $3,700.
In the following video, Patla talks about how the department will utilize Rex: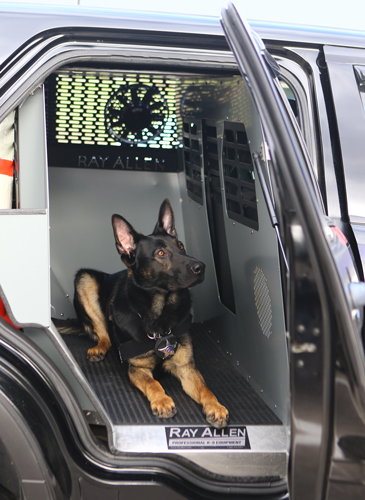 In the following video, Patla talks about Rex and toys: