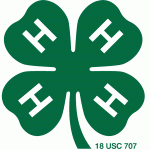 The 2017 Kenosha County 4-H Awards Night will take place Oct. 24, at 6:30 p.m., at the Kenosha County Center 19600 75th St., Bristol (corners of Highways 50 and 45).
The event will honor for 2017 Kenosha County 4-H graduates, Cloverbud graduates, scholarship recipients, trips and award recipients, leader awards, retiring 4-H Council members, Key Award, 4-H Alumni Award, Friend of 4-H Award, Hall of Fame Award, Clover Awards and others.
For questions call or email Bethany Sorce at 857-1932 or bethany.sorce@ces.ywex.edu.