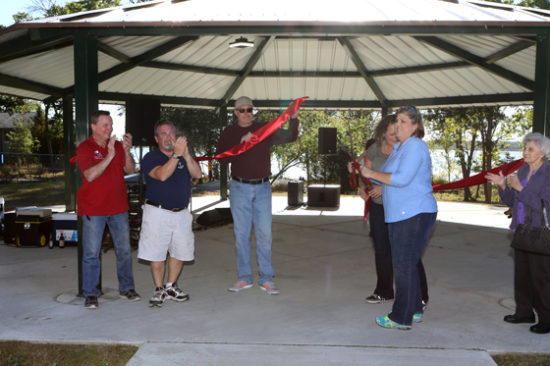 Saturday afternoon, Salem Lakes cut the ribbon on Camp Lake Park, at 26937 104th St. The event was combined with a cookout for volunteers who helped out with flood damage last July.
The park has mature trees and overlooks Camp Lake. The property extends along the shoreline for a total of over 1,500 feet.
Salem Lakes has been improving the property for the last three years, putting in parking lots, paths and the pavilion.
The main part of the park is 7.1 acres. That property was bought in 2011 for $374,000, utilizing existing impact fees.  The property had previously been sold, twice, for 1 million dollars, for development, but went into foreclosure.
The property used to have a bar/restaurant and a house and cottage. The bar/restaurant burned down. December 2, 1992. Salem Lakes attempted to save the house, which had been built in the 1940's, but it had too many issues. It was torn down two years, ago.
In attendance were Mike Marchuk and Dorothy Wojtowski. Their family owned the property from 1946-2002.
The musical entertainment was provided by Something About Mary.