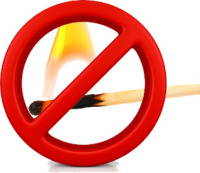 The chiefs of Salem Lakes Fire/Rescue and Paris Fire and Rescue have implemented open burning bans in their jurisdictions.
The Salem Lakes ban is particularly wide ranging, including all of Salem Lakes, Paddock Lake and Brighton, the municipalities served by that department. The Paris ban affects just Paris.
Paris fire Chief Roland Iwen announced his intent to institute the ban at Tuesday's Town Board meeting. It is in effect until further notice.
Salem Lakes fire Chief Mike Slover announced the ban Thursday afternoon, effective immediately. The ban will stay in effect until U. S. Drought Monitor for southeast Wisconsin reduces from moderate to a lower risk level, Slover said.
"The fire danger for this area has been forecasted as moderate, however with the lack of precipitation, low humidity, combined with the time of year for dying vegetation of leaves and grasses due to the fall season a substantial amount of rainfall would be required to decrease the danger of wildfires," Slover said in a memo announcing the ban.