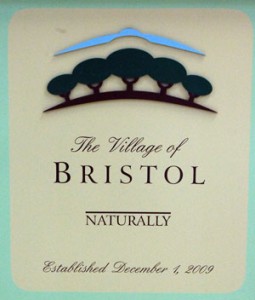 Bristol homeowners will see a higher storm water fee on their next property tax bill.
On Monday, the Bristol Village Board voted to increase the fee to $30 per year. That charge appears on the property tax bill as a separate item.
The fee had been $9 annually.
A survey of nearby municipalities with similar fees showed Bristol to have to the lowest storm water fee. The next closest was Pleasant Prairie at $36 per year.
The storm water fee is paid by any property with a structure or a parking lot. Larger buildings — like the Kenosha County Center and Bristol School — pay larger fees based on a calculation of their buildings compared to a single residence. Though the county government and school district are tax exempt, they still pay the storm water fee, said village administrator Randy Kerkman.
"Everybody is paying for the amount of storm water they are generating on their land," Kerkman said.
Board members discussed the fee hike — and its size — before voting on it.
President Mike Farrell asked whether most taxpayers would even notice the change, given even the new fee's relatively small size.
Some other board members said they were sure taypayers would notice.
"I don't mind changing it, but I don't like such a big jump," said Trustee Carolyn Owens. "I guarantee that if you go from $9 to $33 we will get calls."
Since storm water fund money might pay for projects that could mitigate future flooding problems, Trustee Ruth Atwood said the recent flooding  might make people more understanding about the fee hike.
"I think the few people that will call will understand, because we just had a flood," Atwood said.
Trustee Colleen Fisch argued enacting the fee was important if the village needs more money in the storm water fund because it is an area where the village is allowed to raise the needed amount of money earmarked for specific purposes.
For example, Kerkman said the fund currently is low because of recent efforts to try to ease flooding in the Lake George neighborhood.
Fisch offered to handle calls from residents needing the fee hike explained.
Trustee John McCabe made a motion to enact a gradual fee increase schedule over five years that would have set the fee at $21.64 at the end of the run-up. That motion failed for a lack of a second.
Fisch moved to set the fee at $30 annual starting with the next period. That motion passed 4-1 with McCabe voting no.