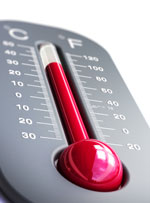 High temperatures are expected to continue to be well above seasonal norms for the next couple of days.
Monday's high is expected to reach 89 and Tuesday's 87, says the latest, Local National Weather Service forecast.
After that high temperatures will begin to cool off and it's going to feel a lot more like late September around here by the weekend. For example, Saturday's high is forecast for 63.
Lows will remain in the mid 40s at the coolest, so no problem for you late season gardeners.