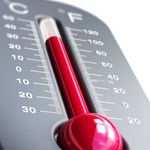 Summer 2017 is planning on going out with one last heat wave — well a heat wave for mid September anyway.
The latest local National Weather Service forecast for our Western Kenosha County calls for high temperatures in the 80s through Monday. The forecast calls for a high of 86 on Wednesday and a high of 85 on Friday, the first official day of fall.
Rain? Not likely. There's a 40 percent chance of thunderstorms Wednesday night and a 20 percent chance of showers and thunderstorms Monday.