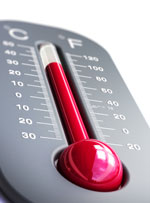 For the the first time in a while, the latest, local National Weather Service forecast for Western Kenosha County includes a string of high temperatures in the 80s.
Friday's forecast high is 82, Saturday's high is forecast for 84 and Sunday's high is forecast for 80.
There is a bit of a chance of rain on Sunday (30 percent).
Looking further out, after a cooler Monday with a high of 73, the high temperature for Tuesday, Wednesday and Thursday is forecast for 77.