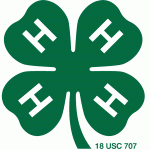 The 12th annual Kenosha County 4-H open house will take place from 6:30 to 7:30 p.m. on Sept. 26 at the Kenosha County Center, 19600 75th St., Bristol.
Those attending will be able to check out different activities and projects 4-H member participate in.
4-H is open to kindergarten through 12th grade students.
Contact Bethany Sorce at 857-1945 or bethany.sorce@ces.uwex.edu for more information.