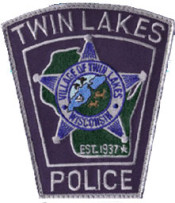 The Twin Lakes Police Department Friday announced criminal charges in connection with five drug overdose deaths in the village between late April and mid June.
TLPD Chief Adam Grosz, in announcing the charges, said:
"I hope this will send a strong message that we are tired of seeing families in our community torn apart by heroin, and other synthetic opioids. We refuse to look the other way and say this is a problem only for the user. We will aggressively seek out those distributing these substances, even if we have to go outside our community, our region, or even our state to find them."
Charges were filed in Kenosha County Circuit Court.
Charged in connection with the death of April 29 death of Cody J. Lawrence,25, are:
Charged in the May 16 death of Charles J. Smoody, 35, are:
Charged in the May 24 death of Rachael L. Guiliano, 35 are:
Charged in the June 12 death of Austin J. Lange, 22, are:
Charged in the June 29 death of Anthony B. Niccolai, 48, are:
In a news release on the charges, Grosz recognized everyone involved in the investigation, singling out TLPD Detective Katie Hall for extra praise. Said Grosz:
"Detective Hall has dedicated hundreds of hours to identifying, locating, and ultimately taking off the street those responsible for distributing deadly drugs that have killed people in our community. These types of investigations take a great deal of time, dedication, and perseverance. Everyone at the Twin Lakes Police Department who was involved in this investigation worked hard, and worked together. Detective Hall kept everything moving forward. I am proud of everyone who contributed."
Grosz also thanked the following agencies for their help with the investigations leading to the charges:
Kenosha Drug Operations Group (KDOG).
Milwaukee Branch of the Drug Enforcement Administration (DEA).
Wisconsin High Intensity Drug Trafficking Area (HIDTA).
Kenosha County Sheriff's Department.
Kenosha Police Department.
Waukegan, IL Police Department.
"The individuals selling heroin, fentanyl, and other synthetic opioids have no regard for the people they are supplying. They often sell these products under false pretenses, not revealing that the drugs they are selling contain deadly synthetic opioids such as fentanyl, in an effort to get the users addicted at any cost." Grosz said.