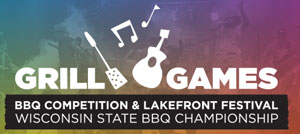 Note: Kenosha Area Chamber of Commerce advertised this event with westofthei.com. This is a paid announcement. — DH
Grill Games is coming to downtown Kenosha Aug. 25 and 26.
This free two-day festival is Kenosha's biggest BBQ festival and features live entertainment throughout the day, activities for the kids, beer garden, and a chance to taste some of the finest BBQ around. Watch the Kansas City Barbecue Society National BBQ Circuit Teams compete for their state prizes, learn their secrets, taste and purchase BBQ, and vote for your favorite teams. Free admission and donations welcome. Proceeds benefit the scholarship foundations of the Kenosha YMCA and the Kenosha Area Chamber of Commerce.
Music schedule is:
Friday music schedule
5:00pm – 7:00pm— GoodFellas
7:00pm – 9:00pm— Funktastic
9:00pm – 11:00pm— Semple
Saturday music schedule
11:00am – 1:00pm— Larry Hinds
1:00pm – 3:00pm— Chicks with Picks 2.0
3:00pm – 5:00pm— Moon Money
5:00pm – 7:15pm— In The Stix
7:30pm – 8:45pm— Lee Dewyze (American Idol Season 9 Winner)
9:00pm – 11:00pm— Pirate Radio
Kenosha's Best BBQ Contest will take place Friday, Aug. 25 from 5 to 8 p.m.
People's Choice BBQ Competition will take place Saturday, Aug. 26 from 2-4:30 p.m.
KCBS Competition will see over 30 professional and amateur BBQ teams from around the country competing for nearly $10,000 in prize money. On Friday night the teams set up and prepare for the competition. Saturday morning, they compete and winners will be announced Saturday night.
There also will be a beer garden, car cruise in and a kids activity area.
Grill Games will take place in Harbor Park Celebration Place, 56th Street and First Avenue, Kenosha
Much more information at grillgames.org.