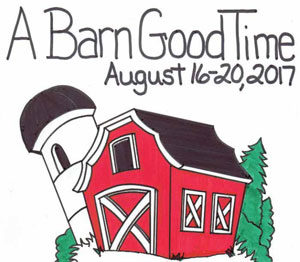 Here is the schedule for Wednesday at the 2017 Kenosha County Fair :
Hours 8 a.m.- Midnight.
Midway Open 1 p.m. to 10 p.m.; Wristband Special 1- 9 p.m.  – $25.
All Day Kenosha County Sheriff's Mobile Command Unit, ATV and Snowmobile on Display – corner of Commercial Building.
9 a.m. Open Class Judging – Clothing, Knitting, Crocheting, Home Furnishings, Flowers, Plants and Photography – Open Class Building.
9 a.m. Open Class Swine Show followed by Junior Fair Swine Show – Show & Sale Arena.
9 a.m. Junior Fair Dog Show – located between the Commercial Building and the Fair Office.
3 p.m. Open Class Sheep Show followed by Junior Sheep Show – Show & Sale Arena.
5 p.m. — Barn Quilt Squares judging.
3-7 p.m. Bingo at the Bingo Building.
6:30 p.m. Digger Doug's ATV/UTV Fair Quad Classic – Grandstands.
7:30 p.m. Lunchmoney Bullies at the Creekside Stage.
9 p.m. Fairest of the Fair Crowning – Show and Sale Arena.
9:20 p.m. Fireworks – Sponsored by Festival Foods! Best viewing area will be in the Grandstand.