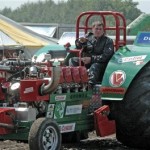 Note: Kenosha County Fair is a westofthei.com sponsor. This is a paid announcement. — DH
The Kenosha County Fair has plenty of pull — as in pulling competitions.
The fair's pull categories range from garden to 14,500 pound tractors.
Truck and tractor pull is scheduled for Thursday starting at 6:30 p.m. in the grandstand. Classes are:
Altered Farm Tractors
Too Hot to Farm Tractors
9500 Farm Tractors
Modified Tractors
Pro Street Gas Trucks
Barnyard Gas Trucks
Outlaw Diesel Trucks
Pro Street Diesel Trucks
14,500 Farm Turbo Tractors
Combine demo derby follows the pulling competition Thursday.
Garden tractor pull takes place Saturday, starting at 10 a.m., weigh-in at 9 a.m.
More information on garden tractor pull classes and rules is available here.
The Kenosha County Fair runs this year from Aug. 16-20.