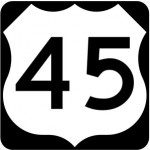 Note: With the help of the Wisconsin Department of Transportation, we will be telling our readers what work took place on the Highway 45 project in the week just past and what is expected to take place in the coming week. Check back every Friday for the latest.
What happened this week (Week of July 31— Finished the installation of fence at County C retaining wall  continued final restoration for Stage 1. Performed common excavation north of 79 th St (Bristol Bay). This will require the
closure to remain in effect. Residents of Bristol Bay should continue to access from the south. Finished common excavation on Stage 2A. Performed joint and crack repair on the existing concrete base. Will set line for trimming operation in preparation for concrete paving; will trim on Saturday.
What's expected to happen next week (Week of Aug. 7) — Will perform common excavation north of 79 th St (Bristol Bay). This will require the closure to remain in effect. Residents of Bristol Bay should continue to access
from the south. Will finish trimming for paving operation. Start paving from 86 th St to 83 rd St starting Tuesday. Anticipated to get the signals set to Red-Flash at County C and County WG. Begin asphalt paving from County CJ to 196 th St on Wednesday for turn lanes and begin mainline paving on Thursday due to the Kenosha County work; Kenosha County will close County C at County D for Culvert work. This is not associated with the US 45 project but will affect traffic patterns. This closure is scheduled to take place 8/8 – 8/9. Grading behind curb and gutter once pavement is laid down on Stage