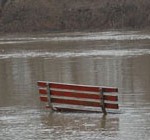 The Fox River has slipped just below flood stage for the first time in two weeks as measured at the New Munster in Wheatland.
At 7 p.m. the river was measured at 10.98 feet. Flood stage is 11 feet.
A flood warning officially remains in effect.
The river had been over flood stage since July 12 in the wake of heavy rain July 11 and 12. It reached a new record crest of 17.47 feet on July 13.
The latest, local National Weather Service forecast has an 80 percent chance of showers or a thunderstorm Wednesday night, with a rain fall total of a tenth to a quarter of an inch, more possible in areas that see storms.