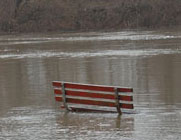 Some 1,300 Kenosha County homes were affected by damage from the July 11-12 storms, an update from Wisconsin Emergency Management says.
The update was released Sunday.
In Kenosha County,  232 homes were reported with minor damage and 14 with major damage, according to emergency management standards. No homes were reported as destroyed.
Four businesses in Kenosha County reported major damage.
Damage to public infrastructure — such as roads, bridges and dams — was reported at $1.7 million for Kenosha County.
The number of homes affected in neighboring Racine County was 2,337. Minor damage was reported for 231 homes and major damage for 60. One home there was reported as destroyed.
The storms resulted in a record crest of 17.47 feet for the Fox River as measured at the New Munster gauge in Wheatland.