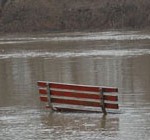 The Fox River continues to make the kind of progress those struck with flooding over the last two weeks want to see — it's still dropping.
As of 9 p.m., the river as measured at the New Munster gauge in Wheatland was just below 12 feet, at 11.80.
The current river forecast calls for the river to be under flood stage of 11 feet by the very early hours of Thursday.
A flood warning remains in effect.
Meanwhile, the most serious chance for rain comes Wednesday night, with a 60 percent chance of thunderstorms and rain of a quarter to half an inch.