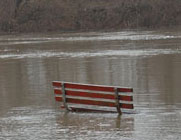 The Fox River, despite a couple of recent rounds of rain, continues to recede as measured at the New Munster gauge in Wheatland.
As of 6 p.m., the river measured 12.18 feet.
The current National Weather Service forecast for the river level calls for the Fox to be below flood stage of 11 feet by Thursday afternoon.
The most significant chance of rain in the next seven days comes Wednesday, when there's a 70 percent chance of thunderstorms.