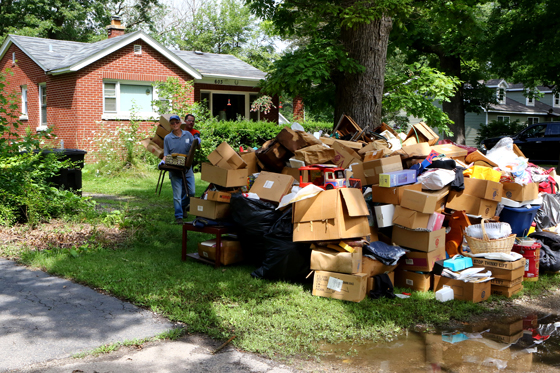 Over 100 volunteers turned out to help with flood damaged homes. They removed objects of all description and debris from once flooded buildings. Some helped with sign in and organization. Others took care of food at the church. Some watched children so their parents could help out.
Coaches and players from the Wilmot football team helped pick up sandbags from the roadside.
Lunch was provided by donations and volunteers at the Community Baptist Church.
Clean-up organizer Allen Dunski of Silver Lake, whose own home was hit by flooding, thanked the volunteers who turned out Saturday and "busted their butts" to help people who in most cases they did not even know.
The clean up continues Sunday from 7 am to 6 pm. Volunteers can come any time to the fire station in Silver Lake, sign in, and join a work group.
Here are some more photos and videos from the clean-up: