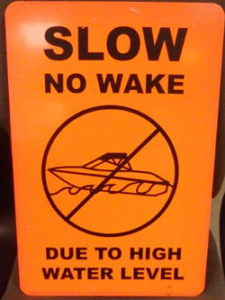 Western Kenosha County lakes that were under slow no wake orders last weekend due to heavy rain are still under slow no wake.
We checked with local municipalities  and slow no wake orders for the following are still in effect:
Lakes Mary and Elizabeth in Twin Lakes.
Paddock Lake.
Lilly Lake in Wheatland.
Powers Lake in Randall.
All lakes in Salem Lakes, including Silver Lake, Hooker Lake, Lake Shangri-la, Camp Lake, Center Lake and others within the village's boundary.
Salem Lakes village administrator Patrick Casey said the lakes in the village will be measured again Friday.
Tim Popanda, Paddock Lake village administrator, said he expects slow no wake to remain in effect on Paddock Lake through the weekend.
Complicating measuring the lake level in Twin Lakes is that the village's level measuring device that displays the level on the village's website is not working correctly. While it is being repaired, levels are being taken manually, said Jennifer Frederick, village administrator.