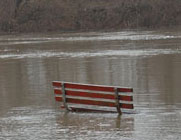 The Fox River continues to recede as measure at the New Munster gauge, despite another round of rain overnight.
At 4 p.m. the river stood at 12.74 feet; the rate at which the river was falling slowed a bit overnight.
The crest last Thursday was 17.47 feet, a new record.
The Kenosha County Sheriff's Department reported through a news release issued Thursday that the rain caused no flooding on county or state Highways here.
There is more rain in the forecast, chiefly Friday night when there is an 80 percent chance of a thunderstorm with 1 to 2 inches of rainfall possible.