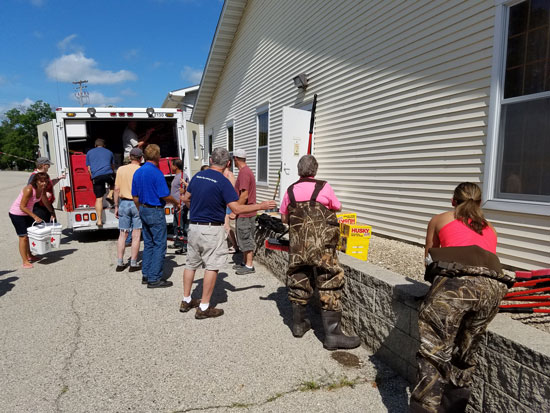 At 10:34 a.m., a load of Red Cross clean-up materials has been delivered to Silver Lake Village Hall.
The supplies include brooms, clean-up kits, bleach, gloves and  other items needed for flood clean-up. There also is some bottled water. Flood victims awaiting the supplies to take care of their homes pitched in to unload the jam packed Red Cross vehicle.
The items are free to take for people in need. Red Cross workers will be on site.
Expected to arrive by 11:30 a.m. will be Red Cross case workers who can help people figure out if they might qualify for financial aid due to flood damage.
Though the pick-up point is in Silver Lake, these supplies are available to anyone in need who has suffered flood or other water damage from this week's heavy rains and river flooding.
More bottled water donated by the Kenosha County Republican Party also was expected to be delivered to village hall soon.
Red Cross workers are expected to be on the scene until 7 p.m.