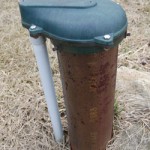 Was your private water well submerged during this week's flooding?
If so, you will want to test your water before using it again.
Water test kits are available for Kenosha County residents whose wells were submerged at the Silver Lake Village Hall until 7 p.m., Saturday and from 10 a.m. to 5 p.m. Sunday.
Here is information from the state Department of Natural Resources about well contamination and disinfection.