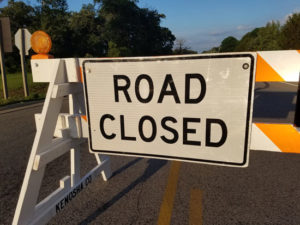 The Kenosha County Sheriff's Department has issued the following update regarding road closures and detours due to flooding:
While there has been no significant rainfall since Wednesday, some areas of Kenosha County still remain flooded.  Some roads remain completely closed. Kenosha County Sheriff David Beth is continuing to work with Kenosha County Executive Jim Kreuser, the Kenosha County Public Works, Kenosha County Department of Health, and State and Local authorities to manage this crisis. At this time State Highway 50 remains completely closed at the Fox River in the Town of Wheatland. This closure is expected to last until Tuesday next week.  Also closed is CTH F at the Fox River.  CTH C remains open to traffic over the Fox River in Wilmot.    Citizens traversing through Kenosha County are directed to take the following DETOUR: Motorists travelling west: STH 50, south on STH 83 (Antioch Road) west on CTH C (Wilmot Road), then west through Wilmot to CTH KD, and then north on CTH KD, back to STH 50.  Motorists traveling east: STH 50, south on CTH KD to CTH C, east on CTH C to STH 83 and then north to STH 50.

One of the most severe closures Kenosha County experienced,  CTH K (60th Street) is completely closed in Paddock Lake due to erosion of the pavement.   The highway remains closed and will be for the foreseeable future. CTH K has had areas of high water and flooding from CTH D to as far west as STH 75, however Deputies report that at 12:30 pm CTH K east of USH 45 is open to traffic.

As always, motorists should never drive through standing water and always use caution.

Additional road closures are:

CTH C from CTH D to USH 45
CTH MB from STH 50 to CTH C
CTH KR from CTH A to CTH H
CTH JB west of STH 83
CTH F from CTH B to CTH FR
CTH B from CTH F to CTH AH
CTH W from CTH C to CTH JI
CTH W from Highway 50 to Highway KD
CTH O from Geneva Road to CTH F
CTH ML at the East Frontage Road.
CTH KR from Highway EA to Highway H.

Road conditions are constantly changing, but overall the floodwaters appear to be trending lower.  At this point there has been no report of injuries in Kenosha County. All motorists are advised to never drive past any Road Closed sign or barricade.  Driving through standing water is unsafe and must be avoided.