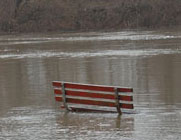 The Fox River, as measured at the New Munster gauge, seems to be at a flat level — neither rising nor falling much — just under its record high reached Thursday.
The record crest was 17.47 feet recorded at 4 p.m. Thursday. At 6:45 a.m. Friday, the river was just a bit lower, at 17.37 feet.
People down river of the gauge in Silver Lake report the water in their yards still seems to be rising this morning.
Relief may be a while in coming. The National Weather Service is not forecasting the river to fall below 17 feet until the early morning hours of Sunday and not fall below the previous high water record until Wednesday.
There is a 30 percent chance of rain Saturday night and then a 20-30 percent chance of rain Tuesday through Thursday.