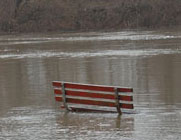 The Fox River has crested at 17.47 feet as measured at the New Munster gauge, and now appears to be receding.
The crest was measured at 4 p.m. It is slightly below the forecast crest of 17.6 feet.
As of 5 p.m., the level had dropped to 17.34 feet.
The crest of 17.47 feet is a new record by over two feet. The old record of 15.18 feet was set in June 2008.
A National Weather Service flood warning continues to be in effect.