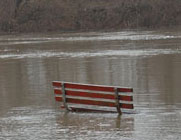 The Fox River has exceeded the standing record for crest as measured at the New Munster gauge.
As of 5:45 p.m. Wednesday, the river is measuring at 15.31 feet. The previous highest measured level was 15.18.
The current forecast for the river calls for the crest to come at about 17 feet at about 7 a.m., Thursday.
A flood warning remains in effect until 5:45 p.m., Thursday.