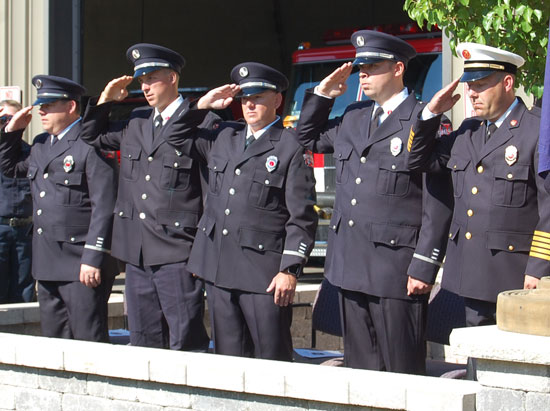 Bristol Fire & Rescue honored current and past members of distinction at its Recognition Ceremony.
The ceremony took place at the department's memorial just outside of the fire station on 198th Avenue. Creating the memorial was a joint project between the Bristol Volunteer Firemen's Association and Bristol Fire Department. It includes the original department bell and an area of memorial bricks.
The following names of former chiefs were memorialized: Sam Knapp, John Runge, Fred Pitts, Arthur Berg, Kenneth Johnson, Bill Bohn, Bill Glembocki, Don Wienke, Eugene Krueger, Scott Muhlenbeck, Peter Parker and Mike Moran. The following members of distinction were memorialized: Arthur "Spud" Magwitz, Jack Lynn and Al Beyers.
The 2016 Fire Department Service Awards were awarded to: Firefighter Chris Klemko, 10 years; Firefighter/paramedic Jessica Hansche, 15 years; Firefighter Joe Panek, 35 years; and Assistant Chief Bill Niederer, 45 years.
The following department merit awards also were announced:
Chief Peter Parker Excellence in Leadership Award — Firefighter/EMT-B Kade Delacy for distinction in leadership, guidance and mentoring provided to crews of the Bristol Fire Department.
Capt. Sam Knapp Department Achievement Award — Firefighter/EMT-B Phillip Petroski for extraordinary performance and initiative resulting in significant improvement to the department operations and emergency services provided by the Bristol Fire Department.
Chief Don Wienke Award for Extraordinary EMS Service — Firefighter/EMT-P Zach Keller for consistent excellence in performance and leadership of crews performing emergency medical services on behalf of the Bristol Fire Department.
Chief William Glembocki Crew Dedication Award — FF/EMT-P Matthew Panek for superior team dedication and performance during the assigned duty shifts for the prior annual operational period.
Chief John Niederer and village President Mike Farrell also made brief remarks.
The department intends to make the ceremony an annual event.
Here are some more photos: