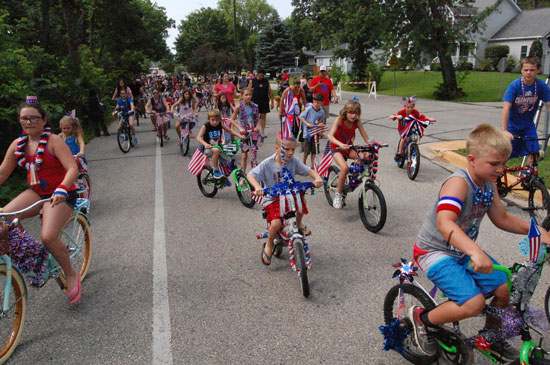 Bicyclists of all ages gathered Tuesday morning at McAlonan Park in Paddock Lake for the village's annual Fourth of July Bike Parade.
The parade starts at the park, travels north down 248th Avenue (the Double Lane), then turns east at 61st Street, then south at 236th Avenue and ending at Village Hall.
There were hot dogs and lemonade for those that finished.
Gift certificate prizes were awarded for the best decorated bikes and for best costume. Prize money was donated by Salem Township Rescue Assoc., c/o Tom and Pat Flowers.
With Paddock Lake allowing licensed golf carts on village streets, there were a number of decorated four wheel vehicles in the parade as well.
Here is some video of the parade near the beginning of the route:
Here are some more photos: