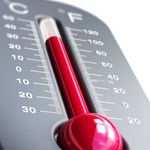 Looks like it will be chilly in Western Kenosha County for the first week of official summer.
The latest, local National Weather Service forecast calls for a low of 48 Monday night.
I guess that's not totally surprising when the temperature Monday right around 2 p.m. is just 67.
But Tuesday should also start a modest warming trend, with highs forecast for 74 on Tuesday, 79 on Wednesday and 85 on Thursday.
There's also a strong chance of a thunderstorm Wednesday afternoon and especially Wednesday night. Here's some info from NWS about the possibility of those storms being severe.