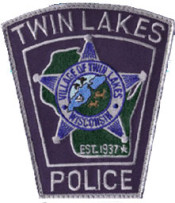 Twin Lakes Police officers surrounded an apartment building and arrested three armed robbery suspects Thursday afternoon.
From a TLPD news release on the incident:
On Thursday, 6/22/2017 at 1:52 p.m. the Twin Lakes Police Department was dispatched to the 1700 block of Wilmot Ave in the Village of Twin Lakes to investigate the report of two male subjects who were robbed at gunpoint in the parking lot of an apartment complex and had money stolen. The male victims, ages 15 and 18, reported that they were approached in the parking lot by two black males and one white male who showed the victims a firearm and demanded that they hand over cash and went through their vehicle. The suspects took approximately $270 in cash from the victims and told them not to alert authorities. During the investigation, a Twin Lakes Police Officer saw two male subjects exit a nearby apartment who matched the description the victims had provided. As the officer approached the subjects, they ran into a separate apartment building. Police surrounded the apartment building and took three male subjects into custody a short time later without incident. A firearm was later recovered from a vehicle belonging to one of the suspects. A 22-year old male from Chicago IL, a 21-year old male from Delevan, WI, and a 21-year old male from Burlington, WI were all arrested on suspicion of armed robbery and later transported to the Kenosha County Jail. Charges of Armed Robbery will be forwarded to the Kenosha County District Attorney.