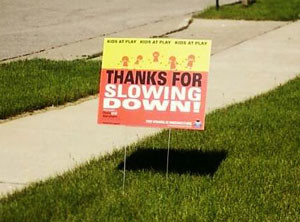 Wisconsin Initiative Safety Education will be hosting a Slow Down yard sign pick-up on Wednesday, June 21 from 6 to 8 p.m. in the lobby at the Kenosha County Center, Highways 45 and 50 in Bristol.
Only one sign per household.  Each household will need to pick up their own sign. There is a $5 donation per sign recommended, which can be paid here.
WISE, Wisconsin Initiative Safety Education, is a grass roots initiative to create a county wide Slow Down campaign in our neighborhood streets. WISE aims to bring awareness to speeding in neighborhoods so children can be safe. It was started by Trevor resident Aimee Janus.