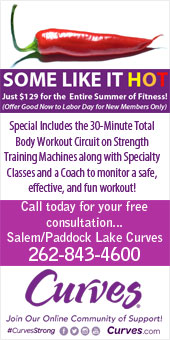 Note: Salem Paddock Lake Curves is a westofthei.com sponsor. This is a paid announcement. — DH
Salem/ Paddock Lake Curves has been strengthening the women in our community for over 15 years. The Curves workout is convenient, combining strength training and cardio activity plus stretching – all in just 30 minutes – to strengthen your whole body. By getting stronger and increasing your flexibility, you are setting the stage for a healthier, more active future so you can live the life you want.
Walk in and jump on any machine in the circuit! In your 30 minute workout, you'll work every major muscle group with strength training, cardio and stretching. Curves is a supportive environment where you can gain strength, balance and flexibility with the guidance of your coach
To get you started on your journey to a healthier lifestyle, Salem /Paddock Lake Curves has a summer special, giving you the whole summer fitness program for just $129. Special includes the 30-Minute Total Body Workout Circuit on Strength Training Machines along with Specialty Classes and a Coach to monitor a safe, effective, and fun workout!
Call 262-843- 4600 today for your free consultation! (Silver Sneakers and Silver and Fit Programs are Accepted at this facility)
Note: Offer good now to Labor Day for new members only.