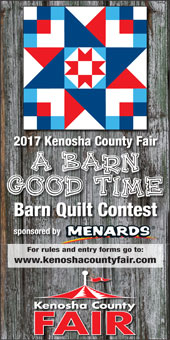 Note: Kenosha County Fair is a westofthei.com sponsor. This is a paid announcement. — DH
The 2017 Kenosha County Fair will include a Barn Quilt Contest.
The contest is sponsored by Menards.
Enter the new Barn Quilt Challenge: A mission to beautify the landscape and celebrate the history and heritage of agriculture at our county fair.
Requirements include:
Must be a 4' x 4' square
Must be on 3/8" or 1/2'" thick exterior durable material (MDO—medium density overlay) board.
Prime board with two or more coats of primer.
Use latex enamel paint and seal with a outside Polyurethane.
Original designs are encouraged.
Entry must be completed by the exhibitor.
Champion Barn Quilt will become property of KCF and put on permanent display on a fair building with acknowledgement of the creator and year won.
Rules include:
Entries must be delivered to the Fair Office on or before August 1, 2017 at 4PM.
Entries must remain on display all 5 days of the Fair.
Entry must meet all requirements.
JUDGING SCORE CARD: Overall Design 40, Creativity 35, Craftsmanship 25, TOTAL 100.
Rules and entry form available here.
Questions? Please contact the Fair Office at 262-862-6121 or fairmanager@kenoshacofair.com. Judging: Wed, Aug 16 at 5 p.m. in the Open Class Building. PRIZES: 1st—$100, 2nd—$75, 3rd—$50, 4th—$25.