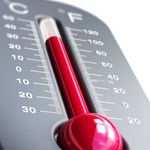 The latest, local National Weather Service forecast for this weekend is a warm one.
The forecast high temperature for Friday is forecast for 80, for Saturday 83 and Sunday 82.
Friday and Saturday are expected to be sunny and mostly sunny. Saturday, there is a 30 percent chance of thunderstorms.
Later next week looks to be a bit cooler, with high temperatures returning to the 70s.