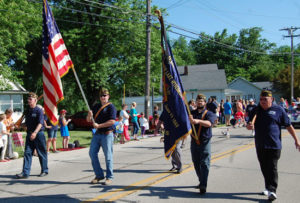 Memorial Day parades and ceremonies will take place in Silver Lake and Twin Lakes on Monday, May 29:
Silver Lake — Memorial Day observance will begin in Silver Lake with the annual Schultz-Hahn American Legion Post #293 parade at 9 a.m. on Monday, May 29. The parade begins at Riverview School, heads east on Prosser Street to Cogswell Drive and then south to 1st Street. It then goes west on Lake Street and then turns north on 2nd Street and finally east on North Street ending in the parking lot at the American Legion Hall parking lot. A ceremony will be held in the parking lot immediately following the parade. Refreshments will be served following the ceremony.
Twin Lakes — American Legion Post 544 in Twin Lakes will host its annual Memorial Day parade this year on Monday, May 29. The parade through Twin Lakes begins at 11 a.m. There will be a service after the parade at the post in Legion Park. The parade starts in Lance Park, moves along Lance Drive and Main Street east to Lake Avenue, where it turns south to Legion Drive, where it turns east and ends at the post.