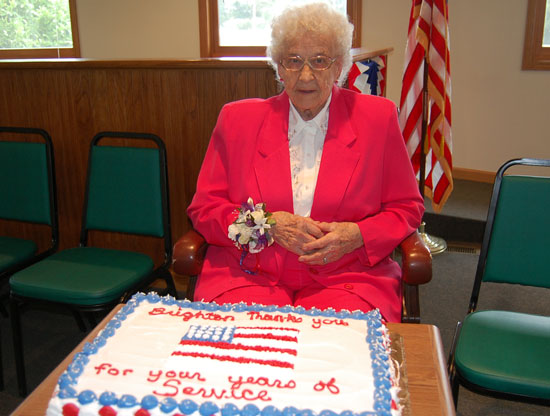 Vida Terry of Brighton was recognized for her long service to the town as an election official and in other capacities and roles as well.
A reception in Terry's honor was held at Brighton Town Hall Sunday.
Terry started as an election official for the town in 1964. She also served as town treasurer for 10 years.
Here is a short video interview with Terry:

Here is the text of a commendation of Terry from the state legislature sponsored by state Rep. Samantha Kerkman and state Sen. Van Wanggaard:
WHEREAS, Mrs. Vida Terry, of the Town of Brighton in Kenosha County Wisconsin has served as an election official since 1964; and

WHEREAS, Terry is a wonderful example of Civic mindedness and has served her community of Brighton for 53 years; and

WHEREAS, Terry also served several terms as Town Treasurer and continues to be a part of the Treasury; and

WHEREAS, Terry embraced and enforced the ever-changing election laws in her position as Chief Election Inspector; now

THEREFORE, be it resolved that the members of the Wisconsin State Legislature, on the motion of Senator Van H. Wanggaard and Representative Samantha Kerkman, do commend Mrs. Vida Terry on her impressive public service and dedication to her community. They join the Town of Brighton in congratulating her for her outstanding accomplishments.

State Representative Samantha Kerkman,  61st Assembly District

State Senator Van H. Wanggaard, 21st Senate District