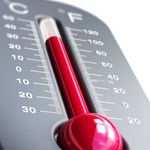 It's going to be much cooler and wet this weekend, says the latest, local National Weather Service forecast.
After days this week of upper 70s-plus highs, Friday's high temperature is expected to reach just 50. Saturday's high is forecast for 66 and Sunday's high 63.
Rain is also likely during that period. Friday there will be an increasing likelihood of rain through the day, with the strongest possibility around 2 p.m.  Saturday rain is at least likely between about 7 a.m. and midnight, with thunderstorms possible later. in that period. There's an 80 percent chance of thunderstorms Sunday.