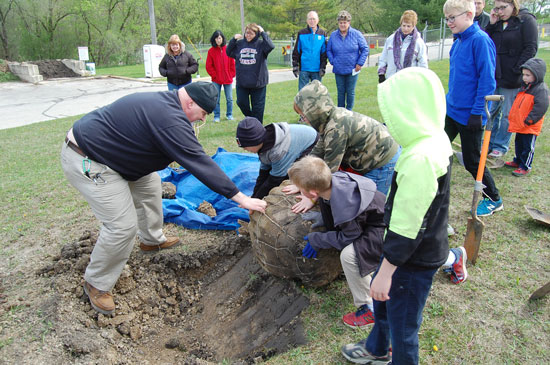 Paddock Lake celebrated Arbor Day 2017 with a tree planting Saturday.
The maple tree was planted at Erickson Park. Local Cub Scouts assisted in helping to place the tree, fill the hole and cover it with mulch.
Also in attendance were village Trustees Barb Brenner, Kathy Christenson, Gary Kaddatz, Chris Kram, and Gloria Walter as well as county Supervisor John Poole. Village administrator Tim Popanda directed the ceremony.
The children in attendance were sent home with a pine seedling to plant.
Also this year, Paddock Lake received an Arbor Day Foundation Growth Award. Kim Sebastian from the Wisconsin Department of Natural Resources, explained the award recognized the village's work in helping residents get rid of ash trees infested with emerald ash borer through a cost sharing program.
Here is a video of Sebastian explaining the award:

Here are some more photos from the event: