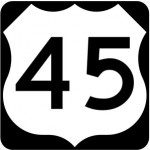 Note: With the help of the Wisconsin Department of Transportation, we will be telling our readers what work took place on the Highway 45 project in the week just past and what is expected to take place in the coming week. Check back every Friday for the latest. 
What happened (week of April 24) — Utilities continued relocations. Right turn lanes were excavated and backfilled from County WG to 119th St. on the southbound side of US 45. Driveway culverts have been replaced from County WG to 119th St. Rain continued to affect production for the contractors and utilities.
What's expected for next week (week of May 1) — Common excavation will continue on the southbound side of US 45 heading north of 119th St. Milling piles will be used to backfill the excavation. Portable Changeable Message Signs will be placed in advance of the full closure at County WG/US 45. Closure scheduled for May 10 (Note: We expect to have more information from WisDOT to pass on about this closure at a later date — DH). Utilities will continue relocations.